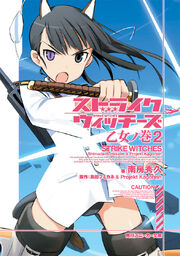 Strike Witches: Otome no Maki - Volume 2 Translation page
Edit
Guess I should write something here?
Prologue
Chapter 1 - Swift, Gigantic, and Soft―or, A Midsummer Night's Ghost Story
Chapter 2 - Solidarity―or, the Chapter for Sanya, by Sanya, for Sanya
Chapter 3 - Disappearing Lucchini―or, the Pocket-Plugging Treasure
Chapter 4 - Special Operation Riceball!―or, the Maiden's Waistline
Chapter 5 - Memories of Fun Summer Days―or, Barkhorn in Wonderland
Chapter 6 - Escape Route―or, Low as the clouds, strong as the wind, high as the waves
Chapter 7 - Forget You Not―or, a Red Dress and Lili Marleen
Epilogue
Ad blocker interference detected!
Wikia is a free-to-use site that makes money from advertising. We have a modified experience for viewers using ad blockers

Wikia is not accessible if you've made further modifications. Remove the custom ad blocker rule(s) and the page will load as expected.