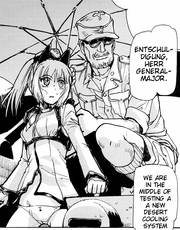 Michael Schmitt
Sergeant during the Battle of Karlsland, and later Captain in North Afrika.
Commanded first a Panzer II tank, then later a Panzer 38(t) during the Battle of Karlsland. While fighting against ground-based Neuroi, he first encountered Friederike Porsche, who at the time was a ground-attack witch flying a Stuka Striker.
Afterwards he became a technical officer and worked with Friederike Porsche in North Africa, where he helped develop the Tiger Ground-Striker.
His real age is unknown since he transformed from a young man in Karlsland to an old-looking person a few years later in North Africa.
Appearances
Edit
Doujinshi
Ad blocker interference detected!
Wikia is a free-to-use site that makes money from advertising. We have a modified experience for viewers using ad blockers

Wikia is not accessible if you've made further modifications. Remove the custom ad blocker rule(s) and the page will load as expected.