Cecilia E. Harris



Age:

?

Date of Birth:

December 2nd

Affiliation:

Liberion Navy
508th Joint Fighter Wing

Rank:

Flight Lieutenant

Height:

?

Striker Unit model:

Weapons:

M1919A6

Familiar:
Cecilia E. Harris (セシリア・E・ハリス?) is a Witch of the 508th Joint Fighter Wing, originating from Liberion.
She is a based on Cecil E. Harris.
Background
Edit
Before the Neuroi invasion Cecilia was planning to enter a teaching staff school. When her witch powers manifested themselves she volunteered to join the Liberion Navy, and received practice as a military cadet. After she was appointed Pilot Officer on the year 1941, she deployed in 27th Convoy Flying Corps, where she went through harsh training. They were put in the escort carrier Suwannee, which used to be a tanker. They went into Europe in fleet guard duty.
In 1942 she took part in supporting the Liberion landing operations in North Africa. In the naval port of Dakar she fought together with Flight Sergeant Lemare and got her first kill on the record. In Mediterranean Sea she brought supplies to North Africa, and when she changed from F4F to F6F she was transferred to 18th Flying Corps. That group went to Pacific Ocean to train to get accustomed to that ocean, and they took part in joint practices with the Fuso witches. A lot of cultural change happened between the witches. When 508th JFW was established, Wing Commander Thach, whom she had got to know during the joint practices, elected her.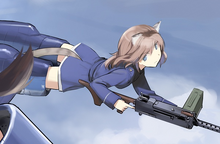 Ad blocker interference detected!
Wikia is a free-to-use site that makes money from advertising. We have a modified experience for viewers using ad blockers

Wikia is not accessible if you've made further modifications. Remove the custom ad blocker rule(s) and the page will load as expected.